Study Leadership

Mike O'Shea, MD, MPH
moshea52@unc.edu
Principal Investigator
Mike O'Shea is the C. Richard Morris Distinguished Professor of Pediatrics and Division Chief of Neonatal-Perinatal Medicine at the University of North Carolina (UNC). He was a member of the team of researchers who wrote the initial ELGAN grant in 1999-2000 and led the study at Wake Forest from 2002-2015. Since 2015 he has led the ELGAN Study at UNC. His interest in extreme prematurity began 40 years ago when he was an intern in the neonatal intensive care unit (NICU) at UNC, carrying for infants born extremely preterm. Over the next 4 decades he cared for infants in the NICU and directed the NICU Developmental Follow Up Clinics at Wake Forest and UNC. These experiences fostered a drive to search for ways to improve the lives of babies born extremely preterm. Thus he feels extraordinarily privileged to have the opportunity to co-lead, along with Dr. Rebecca Fry, the third phase of the ELGAN study, titled ELGAN-ECHO.
Mike grew up in Durham, North Carolina and attended college, graduate school (epidemiology), and medical school at UNC. He completed training in pediatrics at UNC and in neonatology at Duke. He and his wife Lou recently celebrated their 40th anniversary and are the parents of three children – a school teacher (son), a statistician (daughter), and a geologist (son) – and grandparents of three boys and two girls. He enjoys gardening with Lou, playing guitar with friends, running long distances in solitude, and, most of all, playing with grandchildren.

Rebecca Fry, Ph.D.
rfry@unc.edu
Co-Principal Investigator
Rebecca Fry is the Carol Remmer Angle Distinguished Professor in the Department of Environmental Sciences and Engineering and serves as the co-Principal Investigator of the ELGAN ECHO study with Mike O'Shea. Dr. Fry oversees the ongoing ELGAN ECHO Study ensuring research success at the 12 hospital sites across the U.S.
In 2002, Dr. Fry joined the Center for Environmental Health Sciences group at the Massachusetts Institute of Technology (MIT) as a post-doctoral researcher. During this time Dr. Fry learned about the harms of toxic substances on the health of pregnant women and their children. She had the opportunity to use genomic technologies to identify the impact of prenatal environmental exposures on children's health. Her research focused on an at risk population in Thailand. She was so impacted by this experience that after her post-doctoral research, she started her own lab at UNC-Chapel Hill to continue this line of research. Her lab is committed to the improvement of the health of pregnant women and children. The lab does this by combining environmental science, genomics, epigenomics and molecular epidemiology. Several years ago, Dr. Fry met Mike O'Shea and the two brainstormed about ways to include environmental science and the epigenome in the science of ELGAN – the rest is history. Dr. Fry is passionate about research that protects the health of children and feels very fortunate to play a role in the success of ELGAN ECHO.
Rebecca has both a Bachelor's degree in biology from William Smith College and a Masters and PhD degree in Biology from Tulane University. She lives in Chapel Hill with her husband, two sons, one daughter, two dogs, two hamsters, and two fish.

Julie Rollins, MA
julie.rollins@unc.edu
Project Manager
Julie Rollins is a Research Instructor in the Department of Pediatrics and has served as the Project Manager for the ELGAN Study since 2011. Julie oversees day to day operations for the ELGAN ECHO Study, including study protocol implementation, communications, coordination with the ECHO Coordinating Center, and Study Coordinators in 12 hospital sites across the U.S.
In 2002, Julie left her native Canada to pursue a path that combines her interest in pediatric wellness and social justice. She joined Dr. Richard Lapchick of Northeastern University in Northeastern's Center for the Study of Sport and Society and later led a series of pediatric initiatives and interventions aimed at increasing opportunities for physical activity and reducing barriers to healthful foods in Boston's most underserved communities. A serendipitous meeting at Boston Medical Center with ELGAN 2 Principal Investigator, Karl Kuban, brought Julie to ELGAN, which merges her passions for research, physical health and improving the lives of children. Julie has degrees in Kinesiology and Sport Psychology from the University of Western Ontario and McGill University. She lives on the South Shore of Massachusetts with her husband, daughter and young boy-girl twins.

Lisa Smeester, Ph.D.
Biospecimen Lead
Lisa Smeester serves as the biospecimen lead for the Elgan-ECHO study. Lisa grew up in Lawrence, Massachusetts and received her BS from Simmons College in Boston, and her MS and PhD in Environmental Sciences and Engineering from UNC Gillings School of Global Public Health. When not spending time with her husband Mat and their 3 bunnies – Higgs, Hubble, and Hadron – she enjoys sewing, DIY projects, and horror movies.
---

Jim Peak is responsible for developing platforms for data collection and processing. Jim was born in South Africa. He moved around between South Africa, California, and Illinois, went to University of Illinois for Computer Science, and then moved to North Carolina. Jim is married to Kelly and they have two children. He enjoys board games, reading, and hiking.

Adam Mack is responsible for the management of study data. Adam Mack grew up in western North Carolina and attended the University of North Carolina, obtaining an undergraduate degree in Psychology and a Master's in Information Science. He's married to Sarah and they have two children.

Jennifer Baucom provides information technology support for the 12 study sites.
ELGAN-ECHO Cohort Ambassadors

Beth Kring: Lake Michigan Area Ambassador
Janice Wereszczak: North Carolina Ambassador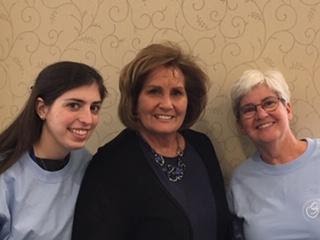 Fichorova Lab
If interested in more information about the Fichorova Lab, please contact Dr. O'Shea at moshea52@email.unc.edu